Is the first book of the Fearless series. This book introduces many of the main characters, their nature, characteristics, and teaches children the power of the Fearless ROAR.
Is currently the third book created in the Fearless series. Children are introduced to the laughter and joy found by conquering the great fears and trials found in the mind.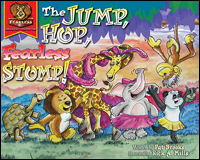 Is the second book in the Fearless Series, where new friends are introduced, character traits and names are expounded upon, and Fearless and Friends learn to dance on their circumstances and fears.
Fearless and friends are featured in an exciting coloring/activity book filled with games, educational puzzles, crosswords, coloring sheets, cut-outs, and more.