Welcome!
Fearless the Lion is an exciting series of children's books and activity books that helps children to defeat all types of fear. Fearless encourages children to overcome fears, persevere through struggles, and to view life through a joyful lens.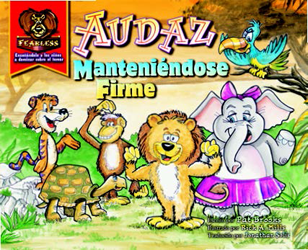 Come visit the world of Fearless the Lion through 'Standing Tall,' 'Giggle Bubbles' and 'The Jump, Hop, Fearless, Stomp!
Fearless The Lion & Friends  Trip Honduras 2014 The gang traveled during January 2014 to Central America. The Team arrived in a Beautiful Country called Honduras. Part of the Gang on picture above... ---------- Pat Brooks, Fearless The Lion and Friends hope that...
read more
ROAR and SMILE Big!This pic shows some of the Gang! Fearless and Friends!This amazing group of Jungle Friends were ROARING...ROARING in Honduras with an amazing group of kids!This weekend... It's your turn! ROAR and SMILE! ROAR.... ROAR... ROAR!!!
read more